The true demarcation of power in a liberal progressive democracy is between the 1% richest + their 9% enablers vs the 90% rest of us.
The richest protect their wealth from any new taxes and our social and physical infrastructure suffers.
The political project of the Right is to starve the State of revenue so there is nothing to redistribute in the first place.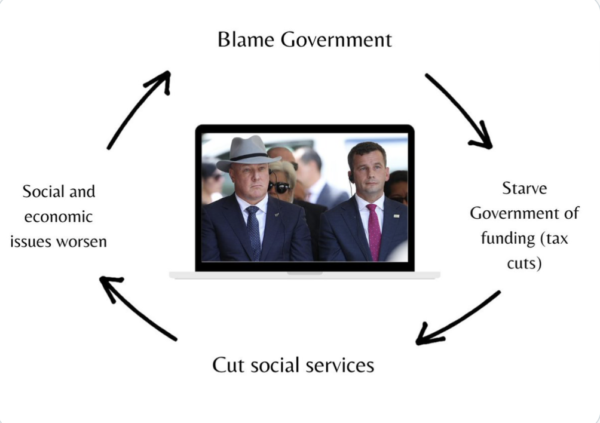 The Māori Party identify this and have put together a Tax Policy that is as close to Socialism as we are going to get!
Te Pāti Māori's tax policy
Tax rates
$30,000 and under – 0% tax

$30,001 – $60,000 – 15% tax

$60,001 – $90,000 – 33% tax

$90,001 – $180,000 – 39% tax

$180,001 – $300,000 – 42% tax

$300,001 and up – 48% tax
Currently the top tax rate – for earnings over $180,000 – is 39%.
The party would also:
TDB Recommends NewzEngine.com
Remove GST from all kai and regulate the ability of supermarkets to hike prices

Increase the company tax rate from 28% to 33%
And introduce:
A net wealth tax

A foreign companies tax

A land banking tax

A vacant house tax
The enormity of what the Māori Party are espousing here can not be ignored.
Labour is here to manage under regulated capitalism (and let the free market do the rest), the Greens are here to try and add the cost of pollution into the price (and let the free market do the rest) while the Māori Party are actually here to disrupt capitalism!
Right now in NZ we have 25 000 people on the social housing wait list, we spend $1million per day Kettling beneficiaries into unsafe motels, barely 50% of our students were regularly attending class in term 1, Home ownership is at its lowest rate in 70 years, there are 200 000 children in poverty, 55% of Kiwis are struggling financially, we are facing the worst food inflation for 30 years,  there's 100 000 homeless and the planet is melting before our eyes!
Normally the wealthy can rely on the fecklessness of the Greens or the cowardice of Labour to do nothing meaningful on Tax Policy, but John Tamihere is a heavy hitting working class boyver boy who is going to make Chippy tax the rich!
Left Wing Pakeha have every reason to vote for Māori Party Tax Policy this election.
Increasingly having independent opinion in a mainstream media environment which mostly echo one another has become more important than ever, so if you value having an independent voice – please donate here.
If you can't contribute but want to help, please always feel free to share our blogs on social media