This Monday 8pm on Whakaata Māori is about exploring the role and power of the media in the lead up to the election in shaping the narrative.

9 guests join us….here they are pic.twitter.com/6cM324aUKG

— Te Ao with MOANA (@TeAoWithMOANA) August 25, 2023
Nicky Hager, Matthew Hooton, Simon Wilson, Annabelle Lee-Mather, Hayden Donnell, Claudette Hauiti, Carmen Parahi, Richard Pamatatau and me walk into a bar!
8pm tonight on Māori TV, Te Ao with Moana we debate who really controls the narrative in NZ.
I argue Matthew Hooton's rich client mates are the ones really dictating this election and I point out we know this because the wealthiest Kiwis have donated $12million to ACT and National since 2021 and you just need to look at the facts to know they are influencing the narrative.
Right now in NZ we have 25 000 people on the social housing wait list, we spend $1million per day Kettling beneficiaries into unsafe motels, barely 50% of our students were regularly attending class in term 1, Home ownership is at its lowest rate in 70 years, there are 200 000 children in poverty, 55% of Kiwis are struggling financially, we are facing the worst food inflation for 30 years,  there's 100 000 homeless and the planet is melting before our eyes yet what we we debating?
Bilingual signs, phones in schools and GST off bananas!
Nothing tells you more about who is directing the narrative than what is NOT being discussed!
Right now there is an orgy of privatisation being lined up inn the background and we are only getting glimpses of how far the Crony Capitalism under National will be!
TDB Recommends NewzEngine.com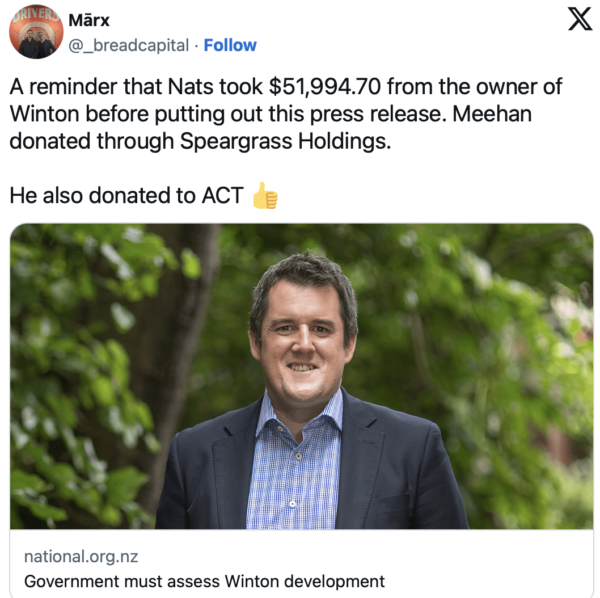 We have an undeclared class war on Renters as the Landlord class get promised the right to throw tenants out onto the street and National will remove the foreign buyers ban so their Real Estate pimp mates who have donated millions to National and ACT can ensure their interests are put above renters.
THIS is who are directing the narrative this election!
Watch the show tonight, 8pm Māori TV.
Increasingly having independent opinion in a mainstream media environment which mostly echo one another has become more important than ever, so if you value having an independent voice – please donate here.
If you can't contribute but want to help, please always feel free to share our blogs on social media