One more joins the disappearing Act
Another Act Party candidate joins the ranks of several others to have quit the race for opaque reasons 
Scott Boness has become another in a string of Act candidates to drop out after quietly slipping off the Auckland Central ballot after just three weeks. 
In his short stint running for the seat, Boness did little visible campaigning before being replaced by 2020 candidate Felix Poole on August 7.
Boness is not the first Act candidate to stand down for opaque reasons since the party list was published on July 16.
Darren Gilchrist has also joined those ranks, having recently stood down as the party's Waikato candidate citing "personal reasons".
Gilchrist apologised when comments he'd made linking a spate of drownings to the Covid vaccine resurfaced online. 
The candidate for Kaipara ki Mahurangi, Anto Coates, quit in July for personal reasons and was replaced by Brent Bailey.
TDB Recommends NewzEngine.com
MP David Seymour told 1News he was happy the candidate had already stood down come August, when some of Coates' controversial social media posts came to light.
Coates' posts included parody videos referring to Dame Jacinda Ardern throwing people in a "gulag" and mandatory mask-wearing as "not quite North Korea but that's how it starts".
Most recently, Elaine Naidu Franz, running for Rangitata, took herself out of the race after her comments reappeared on a LinkedIn post comparing vaccine mandates to Nazi Germany.
NZ First have a candidate who believes there are nano robots in the vaccine, so comparing Covid-19 vaccine mandates to Nazi concentration camps seems quaint.
Because Labour have delivered so little and promised less, all they have is the fear of how far Right a National/ACT Government will go…
Election 2023: Chris Hipkins dials up the negative as internal polling shows Labour in difficult position
Chris Hipkins is sharpening his knives, prepping to get negative and run a campaign based on the fear of what a National-ACT coalition Government would bring. 
The race relations row got fiery in Parliament on Tuesday with Labour accusing ACT of relying on an "openly racist" campaign platform. 
…this is not a stupid tactic.
Painting ACT out as extremist while they have to keep dumping candidates is a smart move.
ACT aren't just looking at dumping the Ministry for Pacific Peoples' (who didn't help themselves with their ill judged $40 000 piss up), they are intending to dump the Ministry for Youth Affairs, Ministry of Womens Affairs, the Ministry for Māori Affairs, the Ministry for Ethnic Affairs and the Human Rights Commission, while stripping out all the environmental legislation passed over the last 6 years, including any worker rights and renter rights on top of a referendum where ACT will redefine the Treaty and then just force it upon Māori!
Those Ministries provide important input to legislation, they are the voice of Women, Pacifica, Māori, Youth and Ethnic Communities in our Democracy. They are the important evolutions you build so that Democracy isn't just the the tyranny of the majority, that those in society with less power are ensured their interests are considered.
Do they spend money on silly stuff sometimes, sure, but that is a tiny price to pay for the role they play within our democracy. To amputate the State in a way that eliminates Māori, Pacifica, Youth, Women and Ethnic Communities WHILE removing the Human Rights Commission is extraordinarily brutal and creates a lesser, weaker democracy.
ACT are effectively asking you to dump all welfare because one person was caught defrauding WINZ.
The extreme nature and ease with which David Seymour would manipulate a hapless Chris Luxon whose own extreme policies of allowing Landlords to throw tenants out onto the streets alongside their mass immigration policies are going to make renters lives miserable.
National are promising rich landlords tax cuts funded by taking from 2 year olds, mutilating public transport and stealing from climate change funds!
Nothing National or ACT are putting up as solutions will do anything other than make the rich far richer.
There's a reason the Billionaire class are throwing money into National and ACT, and they ain't doing it for us!
We are already seeing examples of National Party donors having their pet projects promoted by National in what will be a cluster fuck orgy of crony capitalism that will make Labour's sins look childish in comparison…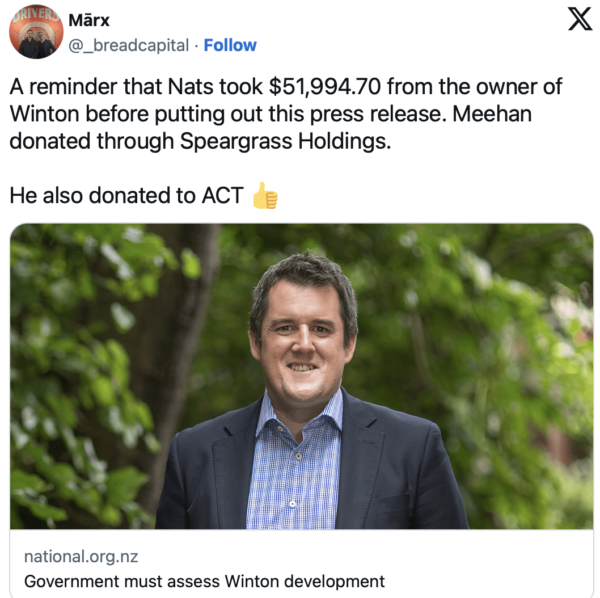 Un-fucking-believable!
It's so ghoulishly self interested.
When the books get opened next week, the full scale of the Chinese slow down and our exposure to that will spook the markets and the sense of economic crisis requiring extreme privatisation measures will abound.
The difference will be National will hack the State for juicy contracts to their mates while ACT will hack the State as the ideological stormtroopers that they are.
Labour and the Greens need to drive attention to what the shared policy platform would look like and warn voters now.
Because it's going to be very grim.
There are two true motivators in politics, fear and anger. ACT and National have taken anger, Greens and Labour will take fear.
Increasingly having independent opinion in a mainstream media environment which mostly echo one another has become more important than ever, so if you value having an independent voice – please donate here.
If you can't contribute but want to help, please always feel free to share our blogs on social media