Kia ora! Discrimination, police and patients this week on the Marijuana Media potcast, with hosts Jonny and Corey from bFM Drive and Chris Fowlie from NORML – thanks to The Hempstore.
Cannabis law enforcement is still discriminatory
New data from police shows there's about a 50/50 chance of being prosecuted if you're caught with drugs. For first timers that likelihood drops to 17 percent. But enforcement remains unfair, uneven, and – given the powers of discretion given to police – why is anyone arrested at all?
The latest Policing of Drugs in New Zealand report shows how police have been dealing with drug use/possession since the Misuse of Drugs Act changes in 2019.
Derek Cheng in the NZ Herald has again done a great job gathering this data and holding them to account (Revealed: Police discretion, drug use prosecutions, and which way the punitive pendulum is swinging).
TDB Recommends NewzEngine.com
The law changes affirmed police's discretion to not charge anyone for use or possession unless there is a public health interest. It was meant to swing the pendulum away from prosecution towards health-based approaches.
It was touted at the time as effectively decriminalisation –  although not by politicians or law reformers. But the data shows the health referral pathway is only being taken up in 3 per cent of all drug use/possession proceedings.
After the law changed in 2019 there was an increase in warnings and health referrals, but this has fallen since mid-2020.
Overall, police rates of prosecution for use or possession of drugs decreased by an average of 250 people per month, but they are still prosecuting around 500 people every month, compared to 32 referrals to health agencies.
The health referral pathway was apparently envisaged as police forcing a problematic addict into treatment by charging them and using the threat of prosecution to help them (read the guidelines here).
It was assumed that giving officers discretion to prosecute who they choose to, would not somehow end up discriminatory.
But while the overall numbers are down, the discrimination has increased. For the first time, Māori now make up more than half of drug prosecutions.
It's also not clear why prosecution rates are higher for people with prior convictions. If those convictions are taken by police to be an indicator of a drug problem, surely the person should be referred for help, not prosecuted as a criminal?
There are also massive regional disparities. In previous years Auckland's cops have wasted the most time and resources prosecuting people for low level drug possession charges. Now that's Canterbury. Northland has the lowest rate of alternative actions and highest rate of prosecutions.
Police have recorded 28,010 cannabis possession or use offences since the MoDA amendment in August 2019.
For cannabis overall, police still prosecute around 1/3 of those they encounter. If you have no history of drug use offending, this drops to 12 per cent. But for those with previous convictions, the prosecution rate jumps to 43 per cent for cannabis.
The highest rates of prosecution, around 80%, are those caught with LSD – a drug ranked as the least harmful according to both the Police Drug Harm Index and a recent NZ evaluation of drug harms.
On the Mike Hosking Show on 1ZB, former Detective Inspector Lance Burdett said there needs to be thought put into the discretion of charges and the drivers of drug use in the first place: "We're just sort of putting the ambulance at the bottom the cliff rather than looking at this thing holistically."
Newshub reported Cannabis advocates frustrated as drug dominates use, possession offences. Cannabis still makes up 63 percent of possession and use offences – and that hasn't changed since the law was amended.
Newshub talked to Auckland man Chris Hansen, who has multiple cannabis possession convictions all related to his homemade medicinal cannabis products, who said:
"It's put in the hands of the individual police in the area, and so yeah, there's inconsistency… They were trying to put me inside for six months – that's what the prosecutor was going for – and I managed to get enough letters from people who I helped, to help my cause."
So, what are our political parties going to do about this? Check my #TokeTheVote cannabis-based voting guide. The Greens have the best policy, along with ALCP, TOP and Te Pati Māori. Labour said they won't decriminalise. The best we can hope with National and Act is not going backwards.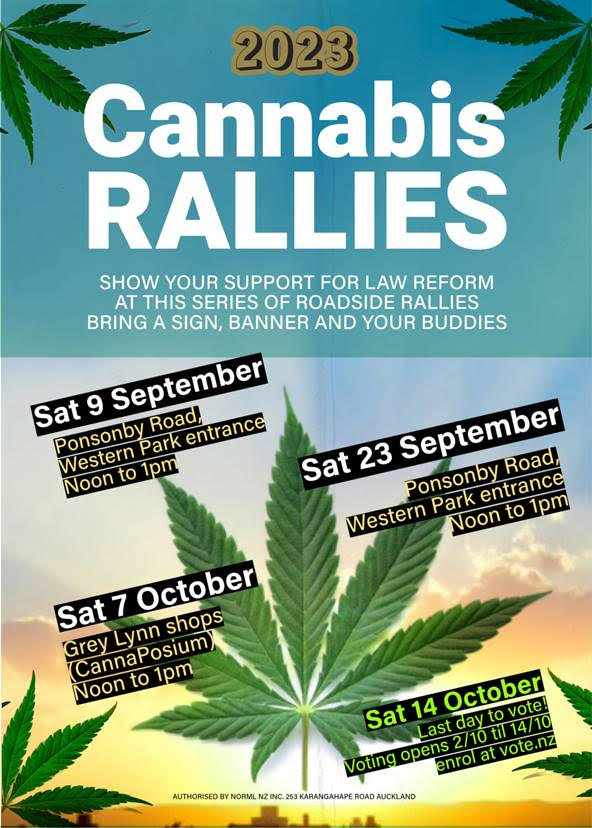 Show your support at NORML's Cannabis Roadside Rally this Saturday. Come along and wave a sign or just be present – High Noon on Ponsonby Road at Western Park.
Medicinal cannabis highs and lows
Medicinal cannabis industry growing after Government relaxes regulations, according to a report on Radio NZ which also ran on Newshub – but patients are still facing discrimination from police and employers, says The Spinoff.
Changes to New Zealand's medicinal cannabis scheme approved by the Government are expected to make it cheaper for patients with a prescription.
Currently, medicinal cannabis is around the same price as illicit cannabis, which means some patients spend hundreds of dollars per week on a herb they could grow themselves for free.
Under the new changes there won't be any direct subsidies, or home grown. But it will be easier for producers to export overseas, which will reduce their overall costs and drive down prices here.
Imports will also become easier, giving NZ patients access to more of the types of products seen elsewhere.
Medsafe's Acting group manager Derek Fitzgerald told RNZ:
"The changes are designed to streamline and update the scheme's compliance requirements without compromising the overall quality of cannabis-based ingredients and medicinal cannabis products supplied to New Zealand patients. This will help ensure a sustainable medicinal cannabis industry in New Zealand."
I think it will open things up for smaller local growers to get back involved – although to what degree remains to be seen. Like me, most had shuttered their operations, but it could be time to dust off those plans.
Successful local producers will need to be cognisant of doing it better and/or cheaper that what is produced overseas, and not just for export markets.
Over time, anyone in New Zealand will be able to be prescribed many of the sort of products available to patients overseas, and these will be cheaper than what is now available here.
As one example, Tilray, one of the world's largest producers, only supplies their expensive research grade oils to New Zealand, because none of their other products meet our super stringent regulations.
Ironically, some local producers advocated for the tougher regs to protect themselves from competition.
Bruce Wallace, spokesman for Helius Therapeutics, told RNZ under the current rules it was expensive to produce and until now only being allowed to sell solely on the local market meant charging higher prices.
'We would expect it to drop over time. A stronger industry means more competition, more players and a wider variety of products. We would also encourage patients to shop around, as some pharmacies charge more than others for medicinal cannabis products."
This is great news – and credit where it is due. But only 6-10 per cent of patients currently have legal access, with the rest obtaining their canna-meds illicitly. And even though they're not seeking to get high, they're still facing repercussions from police and employers.
That's because driving laws don't distinguish between THC from medicinal or recreational use – patients may still be prosecuted but in court would be able to use a defence of following their doctor's orders.
Many workplaces require employees or prospective hires to provide samples of their urine which is then tested for the inactive metabolites that remain after a person has used cannabis (they don't test for THC, which causes the actual high and supposed impairment they're claiming to be looking for).
Many employers don't seem aware that their workers may be using prescribed cannabis products – sometimes to cope with workplace injury, but most often to get a good night's sleep so they can work the next day.
In an opinion piece on The Spinoff, Clare Halford, a doctor who prescribes it at the Cannabis Clinic, argues it's time the law caught up to ensure medicinal cannabis users are treated the same as those who take other medicines:
"It's not right that a person with a genuine need for this treatment is unable to take it for fear they will lose their job, or their licence."
Dr Halford wants to see three changes: revise the current understanding of "impairment" regarding medicinal cannabis compared with the recreational use of drugs and alcohol; develop clear and reasonable guidelines for the safe use of THC and driving, as these do not yet exist; reach a consensus for employees and employers so people don't have to choose between taking their medication or working.
A step in the right direction would be to use oral swabs instead of urine tests, but the gold standard Is not demeaning people but having the right culture around safety, and for safety-sensitive roles there are now technology-based apps that measure changes in an individual's performance with game-like tests that are relevant to the tasks being performed.
Puff puff pass…
Newshub reported US singer-songwriter Jimmy Buffett, one of the world's richest musicians, has died aged 76. Known for his hits 'Cheeseburger in Paradise' and 'Margaritaville', which inspired a chain of restaurants and resorts for the elderly, Buffet also had a cannabis company called Coral Reefer. In legal states in the US, the largest growth in the use of cannabis has been amongst older people.
The NZ Herald's "power list" of the barons of booze showcases the eye-watering sums of money turned over by those in the liquor trade, including the smaller craft capitalists. Both the Herald and the Otago Daily Times have run a series of thinly-vieled PR pieces from Virginia Nicholls of the Alcohol Beverages Council claiming alcohol is not as bad as health experts say.
Radio New Zealand covered the Aro Valley election meeting for Wellington Central candidates which included the indomitable Michael Appleby, standing for the Aotearoa Legalise Cannabis Party:
Aotearoa Legalise Cannabis party co-leader Michael Appleby's responses often related to (wait for it) legalising cannabis, though at one point he took the microphone and asked his fellow candidates whether they had ever smoked it (they all said yes).
Also on Radio New Zealand Pacific News, Fiji's Cabinet has agreed for a feasibility study to be undertaken for growing medicinal cannabis, joining Vanuatu, Cook Islands, French Polynesia, Guam and Hawaii in allowing medical use or production in the Pacific.
The findings of the study and any subsequent amendments to the law – and the drafting of a new law in consultation with the Office of the Solicitor-General – will be brought back to Cabinet for decision, the government said.
And 35 years ago today: DEA's chief administrative law judge ruled that cannabis should be reclassified under federal law:
"Marijuana, in its natural form, is one of the safest therapeutically active substances known to man."
Coming up:
Marijuana Media airs every Thursday at 4:20pm on 95bFM, with your hosts bFM Drive's Jonny and Chris Fowlie from The Hempstore. Stream or download the pot-cast for this show here or hundreds of previous Marijuana Media shows at 95bFM.com (or via iTunes / RSS feed). Thanks to The Hemp Store!