David Robie also blogs at Café Pacific
Prime Minister James Marape has made two foreign policy gaffes in the space of a week that may come back to bite him as Papua New Guinea prepares for its 48th anniversary of independence this Saturday.
Critics have been stunned by the opening of a PNG embassy in Jerusalem in defiance of international law — when only three countries have done this other than the United States amid strong Palestinian condemnation — and days later a communique from his office appeared to have indicated he had turned his back on West Papuan self-determination aspirations.
Marape was reported to have told President Joko Widodo that PNG had no right to criticise Indonesia over human rights allegations in West Papua and reportedly admitted that he had "abstained" at the Port Vila meeting of the Melanesian Spearhead Group (MSG) last month when it had been widely expected that a pro-independence movement would be admitted as full members.
The membership was denied and the United Liberation Movement for West Papua (ULMWP) remained as observers — as they have for almost a decade, disappointing supporters across the Pacific, while Indonesia remains an associate member.
Although Marape later denied that these were actually his views and he told PNG media that the statement had been "unauthorised", his backtracking was less than convincing.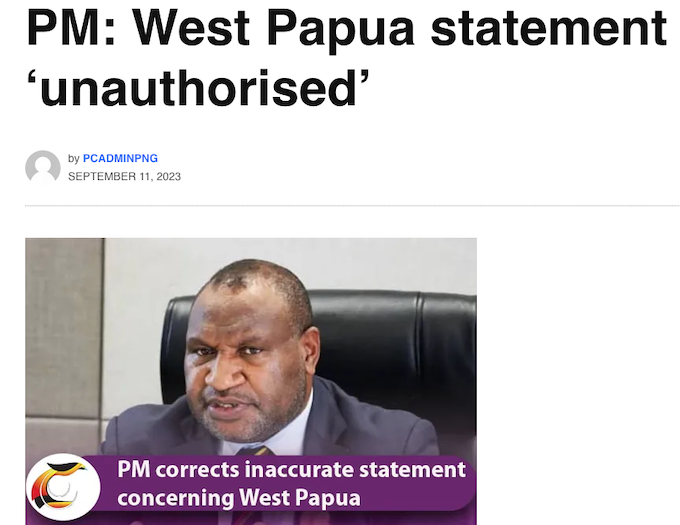 In the case of Papua New Guinea's diplomatic relations with Israel, they were given a major and surprising upgrade with the opening of the embassy on September 5 in a high-rise building opposite Malha Mall, Israel's largest shopping mall.
Marape was quoted by the PNG Post-Courier as saying that the Israeli government would "bankroll" the first two years of the embassy's operation.
TDB Recommends NewzEngine.com
Diplomatic rift with Palestine
This is bound to cause a serious diplomatic rift with Palestine with much of the world supporting resolutions backing the Palestinian cause, especially as Marape also pledged support for Israel with Prime Minister Benjamin Netanyahu attending the inauguration ceremony.
Papua New Guinea has now joined Guatemala, Honduras, Kosovo and the United States as the "pariah" countries willing to open embassies in West Jerusalem. Most countries maintain embassies instead in Tel Aviv, the country's commercial centre.
Israel regards West Jerusalem as its capital and would like to see all diplomatic missions established there. However, 138 of the 193 United Nations member countries do not recognise this.
Palestine considers East Jerusalem as its capital for a future independent state in spite of the city being occupied by Israel since being captured in the 1967 Six Day War and having been annexed in a move never recognised internationally.
As Al Jazeera reports, Israel has defiantly continued to build illegal settlements in East Jerusalem and in the Occupied West Bank.
"Many nations choose not to open their embassies in Jerusalem, but we have made a conscious choice," Marape admitted at the embassy opening.
"For us to call ourselves Christian, paying respect to God will not be complete without recognising that Jerusalem is the universal capital of the people and the nation of Israel," Marape said.
Law as 'Christian state'
According to PNG news media, Marape also plans to introduce a law declaring the country a "Christian state" and this has faced some flak back home.
In an editorial, the Post-Courier said Marape had officially opened the new embassy in Jerusalem in response to PNG church groups that had lobbied for a "firmer relationship" with Israel for so long.
"When PM Marape was in Israel," lamented the Post-Courier, "news broke out that a Christian prayer warrior back home, 'using the name of the Lord, started performing a prayer ritual and was describing and naming people in the village who she claimed had satanic powers and were killing and causing people to get sick, have bad luck and struggle in finding education, finding jobs and doing business'.
"Upon the prayer warrior's words, a community in Bulolo, Morobe Province, went bonkers and tortured a 39-year-old mother to her death. She was suspected of possessing satanic powers and of being a witch.
"It is hard to accept that such a barbaric killing should occur in Morobe, the stronghold of the Evangelical Lutheran Church, which has quickly condemned the killing."
The Post-Courier warned that the country would need to wait and see how Palestine would react over the embassy.
"Australia and Britain had to withdraw their plans to set up embassies in Jerusalem, when Palestine protested, describing the move as a 'blatant violation of international law'.
Pacific Journalism Review: How Indonesian media amplifies the state's narrative on the Free West Papua movement. #westpapua #indonesia #humanrights https://t.co/J3Rj0Ulhzs pic.twitter.com/9ygIo6KjWN

— Human Rights Monitor (@hurimonitor) September 12, 2023
Indonesian 'soft-diplomacy' in Pacific
The establishment of the new embassy coincides with a high profile in recent months over the Indonesian government's major boost in its diplomatic offensive in Oceania in an attempt to persuade Pacific countries to fall in line with Jakarta over West Papua.
Former Security, Politics and Legal Affairs Minister Wiranto – previously a former high-ranking Indonesian general with an unsavoury reputation — gained an additional budget of 60 million rupiah (US$4 million) to be used for diplomatic efforts in the South Pacific
"We are pursuing intense soft-diplomacy. I'm heading it up myself, going there, coordinating, and talking to them," he told a working meeting with the House of Representatives (DPR) Budget Committee in September 2018.
"We're proposing an additional budget of 60 billion rupiah."
Wiranto was annoyed that seven out of 13 Pacific countries back independence for West Papua. He claimed at the time that this was because of "disinformation" in the Pacific and he wanted to change that.
In 2019, he was appointed to lead the nine-member Presidential Advisory Council but his Pacific strategy was followed through over the past six years.
"We've been forgetting, we've been negligent, that there are many countries [in the Pacific] which could potentially threaten our domination — Papua is part of our territory and it turns out that this is true," said Wiranto at the time of the budget debate.
But for many critics in the region, it is the Indonesian government and its officials themselves that have been peddling disinformation and racism about Papua.
Atrocities in Timor-Leste
Wiranto has little credibility in the Pacific, or indeed globally over human rights.
According to Human Rights Watch: "The former general Wiranto was chief of Indonesia's armed forces in 1999 when the Indonesian army and military-backed militias carried out numerous atrocities against East Timorese after they voted for independence.
"On February 24, 2003, the UN-sponsored East Timor Serious Crimes Unit filed an indictment for crimes against humanity against Wiranto and three other Indonesian generals, three colonels and the former governor of East Timor.
"The charges include[d] murder, arson, destruction of property and forced relocation.
"The charges against Wiranto are so serious that the United States has put Wiranto and others accused of crimes in East Timor on a visa watch list that could bar them from entering the country."
Australian human rights author and West Papuan advocate Jim Aubrey condemned Wiranto's "intense soft-diplomacy" comment.
"Yeah, right! Like the soft-diplomatic decapitation of Tarina Murib! Like the soft-diplomatic mutilation and dismemberment of the Timika Four villagers! Like Indonesian barbarity is non-existent!," he told Asia Pacific Report, saying that Jakarta's policy had continued since Wiranto's declaration.
"The non-existent things in Wiranto's chosen words are truth and justice!"
Conflicting reports on West Papua
When the PNG government released conflicting reports on Papua New Guinea's position over West Papua last weekend it caused confusion after Marape and Widodo had met in a sideline meeting in in Jakarta during the ASEAN summit.
According to RNZ Pacific, Marape had said about allegations of human rights violations in West Papua that PNG had no moral grounds to comment on human rights issues outside of its own jurisdiction because it had its "own challenges".
He was also reported to have told President Widodo Marape that he had abstained from supporting the West Papuan bid to join the Melanesian Spearhead Group because the West Papuan United Liberation Movement (ULMWP) "does not meet the requirements of a fully-fledged sovereign nation".
"Indonesia's associate membership status also as a Melanesian country to the MSG suffices, which cancels out West Papua ULM's bid," Marape reportedly said referring to the ULMWP.
Reacting with shock to the report, a senior PNG politician described it to Asia Pacific Report as "a complete capitulation".
"No PNG leader has ever gone to that extent," the politician said, saying that he was seeking clarification.
The statements also caught the attention of the ULMWP which raised its concerns with the Post-Courier.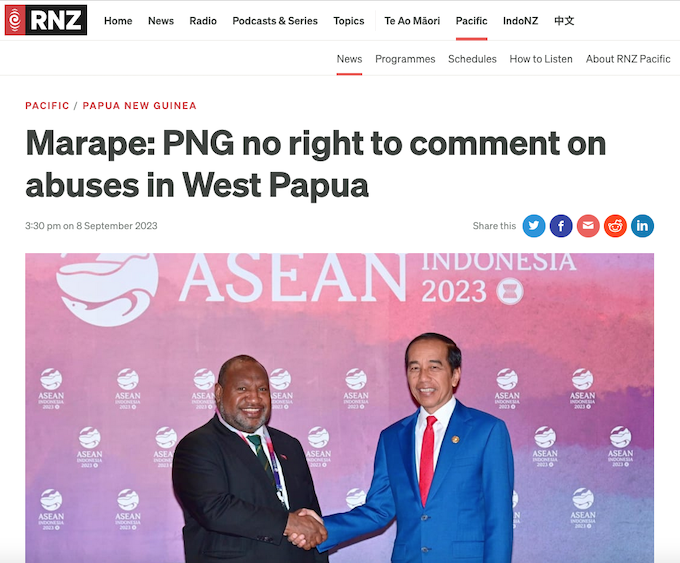 Marape statement 'corrected'
Three days later the Post-Courier reported that Marape had "corrected" the original reported statement.
In a revised statement, Marape said that in an effort to rectify any misinformation and alleviate concerns raised within Melanesian Solidarity Group (MSG) countries, West Papua, Indonesia, and the international community, he had addressed "the inaccuracies".
"Papua New Guinea never abstained from West Papua matters at the MSG meeting, but rather, offered solutions that affirmed Indonesian sovereignty over her territories and at the same time supported the collective MSG position to back the Pacific Islands Forum Resolution of 2019 on United Nations to assess if there are human right abuses in West Papua and Papua provinces of Indonesia."
He also relayed a message to President Widodo that the four MSG leaders of Melanesian countries – [Fiji, Papua New Guinea, Solomon islands and Vanuatu] — had resolved to visit him at his convenience to discuss human rights.
But clarifications or not, Prime Minister Marape has left a lingering impression that Papua New Guinea's foreign policy is for sale with chequebook diplomacy, especially when relating to both Indonesia and Israel.
Republished from Asia Pacific Report and Pacific Media Watch.