Journalist, author and media academic David Robie has launched an independent news and current affairs website to complement his long-established Asia Pacific Report.
While Asia Pacific Report will continue to cover regional affairs, the new website — dubbed Café Pacific, the same name as his blog which is being absorbed into the new venture — will focus on more in-depth reports and make available on open access a range of books and articles previously hidden behind paywalls.
Café Pacific will be operated on a Creative Commons licence basis as is APR.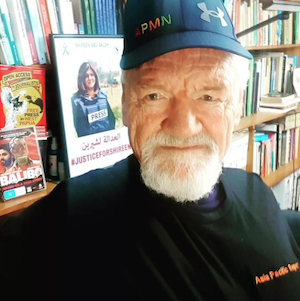 Dr Robie, formerly founding director of AUT's Pacific Media Centre and a professor of Pacific journalism, described the website project as "innovative".
The about page says: "Café Pacific : Media freedom and transparency is the Asia-Pacific news articles archive and website of journalist and author David Robie, published with the support of Multimedia Investments Ltd in collaboration with Asia Pacific Report, EveningReport.nz and the Asia Pacific Media Network, and contributing colleagues, academics and freelancers."
"There is a real need for an outlet such as this — specialist Asia-Pacific websites are rare," says Dr Robie.
"It will be a rather eclectic website, but will focus on many of the critical issues that are either ignored in mainstream media or underplayed — such as climate justice, decolonisation in 'French' Polynesia and Kanaky New Caledonia, digital divide, education equity, environmental integrity, human rights, media freedom, podcasts, sustainable development and the crisis in West Papua."
TDB Recommends NewzEngine.com
Recent scoops
Among recent scoops on the website were publication of the detailed "what we told the French Prime Minister" document of the Kanak and Socialist National Liberation Front (FLNKS) and several exclusive West Papua reports.
The website will also be a repository for Dr Robie's past journalism, books and academic research, making publications more publicly accessible.
Dr Robie praised EveningReport.nz and Multimedia Investments managing director Selwyn Manning for his "perceptive" role in designing and developing the website.
"Selwyn has a long track record of supporting student and alternative journalism as witnessed with first Pacific Scoop and then Asia Pacific Report. And now we see it again with Café Pacific."
Selwyn Manning and security analyst Dr Paul Buchanan yesterday resumed their insightful weekly podcasts, "A View From Afar", about current issues on EveningReport.nz and social media outlets.
This episode: AUKUS, should New Zealand and other Asia Pacific nations join this security pact? And if not, why not?
Watch yesterday's podcast here: